I've been working on a few housekeeping items lately. Firstly, my old woodie Try plane needed a new tote. She was missing hers when I bought her. I spent a couple of hours with a coping saw, files, and sand paper and had her back in top form in no time.
Next, I re-bedded the iron and then I made this great plane adjustment hammer/ mallet. I got the idea from the
Logan Cabinet Shoppe
podcast. Bob does such a great job of explaining traditional hand tools I highly recommend you follow his blog.
As the end of semester one at The Hand Tool School is drawing to a close for me, I have the big tool chest build looming in my near future. Looking at my tool collection, I really don't want to cut all of the rabbets, dados, and groves with a saw and chisel. Looking at my budget and the market, I can see some rehabs of woodie plows, fillisters, etc in my near future. Since the "Wubby Cubby" is now finished, I only have one project left till I need to tackle the tool chest. Wish me luck.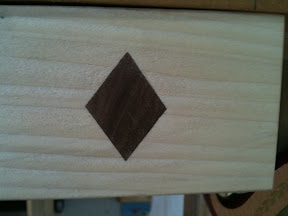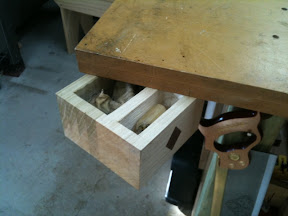 As always, feel free to post any questions or comments in the section below. You could always contact me on Facebook or Twitter via the links on this page.
Until next time...